"Every time I think I've painted something slightly original, I find out that Blek le Rat has done it as well, only 20 years earlier."
Source: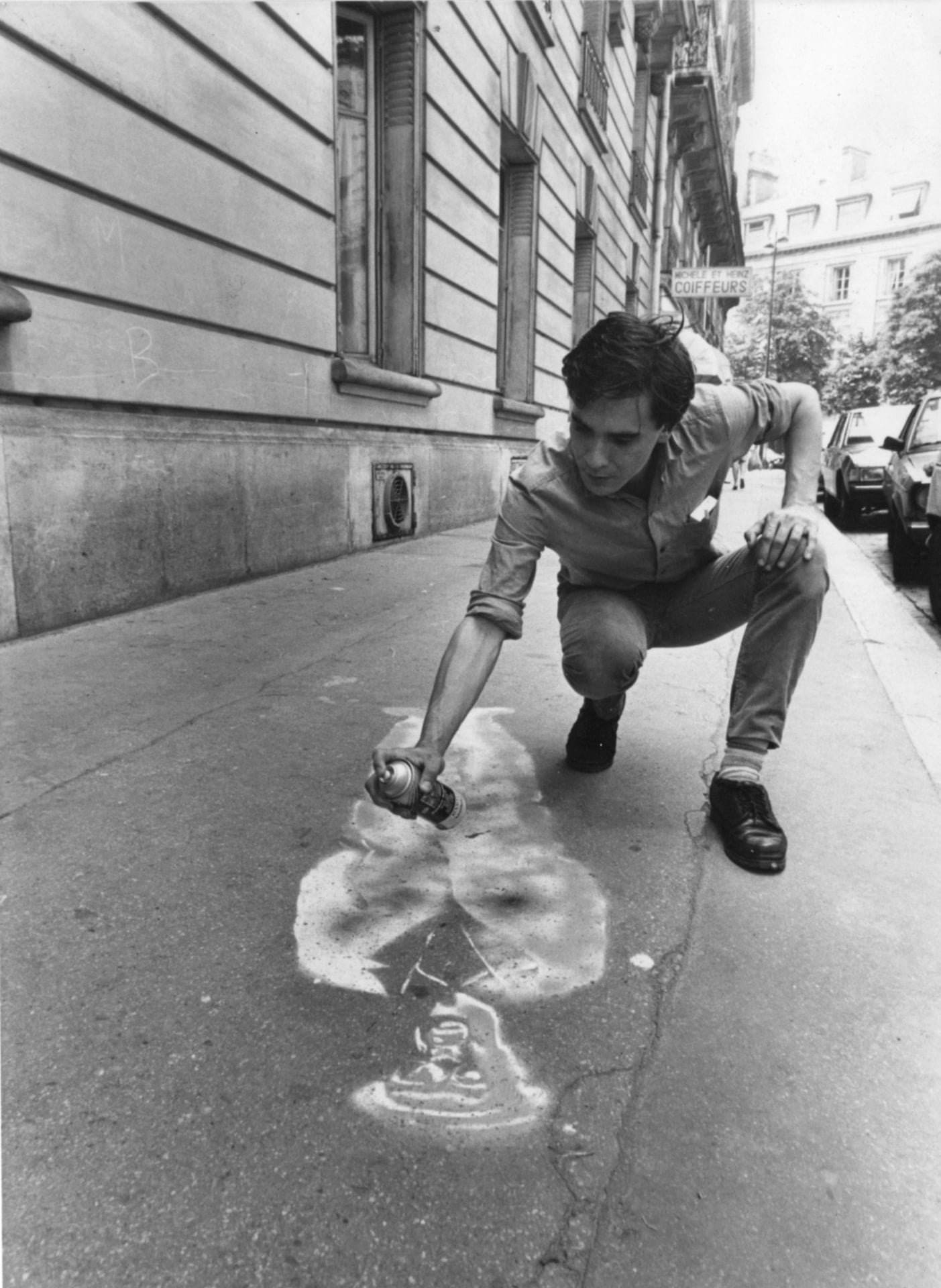 About Blek le Rat
The father of stencil art, Blek le Rat (born Xavier Prou in 1952 in Paris) was one of the very first graffiti artists in France.
He is most well known for painting stencils and is credited with starting the stencil graffiti movement.
Today's graffiti art around the world constantly mirrors the movement Blek began.
What Does Blek le Rat Mean?
Blek le Rat is a nom de plume, used to give some anonymity and intrigue to Blek's work (which most commonly included rats) on France's streets.
"Paris is full of rats, millions of rats, and 'rat' is an anagram of 'art' – so it worked for me – I love the connection between art and rats.
"And then 'Blek' comes from a comic we used to read in my childhood called Blek le Roc." Blek le Rat.
Blek le Rat Art And Graffiti
Blek le Rat used to 'paint' with his spray can during the night, then watch how people reacted to his work during the day.
He said: "After a night spent painting, I would pass by my walls again and again, sometimes standing for hours looking at my work and the people passing by."
"The smallest glance they gave my graffiti filled me with joy." Blek le Rat
Blek le Rat's Work
Blek le Rat's first artwork featured black rats running along walls in the city.
Painting black rats was Blek's way of providing commentary on the urban environment whilst symbolising certain members of society.
This was at a time before graffiti was seen as a criminal offence. Being one of the first graffiti artists meant he could explore and expand his style. Blek paints by using stencils, meaning that he can replicate his work many times over.
As with much urban and street art, Blek's work focusses on topical and current affairs, including the economy, politics and even religion.
His pieces are renowned for their wit and sarcasm, which has only fuelled the popularity of his work in recent years.
Blek has also focussed his work on creating portraits of notable people, figures and icons, including a famous piece of Princess Diana with an angel.
One of his most famous works is a self-portrait of his head on Buster Keaton's body, which has been exhibited in many major cities across the world.
He is considered the originator of the international stencil art movement, painting in stencils, much as Banksy often does today.
Today's street artists and graffiti art, including that of the infamous Banksy, credit Blek le Rat as their inspiration.
Graffiti Artists And The Law
When Blek le Rat first began painting the streets in the early 1980s, his actions didn't particularly draw attention from the law.
Whenever he was questioned by the gendarmes as to what he (and originally he and his friend Gerard) were doing, they'd reply: "Art" and they were left to their devices.
This is true even when they decided, on one freezing night, to paint on the walls of the Georges Pompidou centre with tanks, rats and small figures, with a political message: "For our survival and our freedom, fight militarisation."
As time went on and graffiti came to be considered damage to property, Blek le Rat was forced to study the movements of the police and security, and rope in friends to stand guard while he worked.
He was arrested in 1991 for painting in the street.
This pushed him to be faster with his painting and to begin pasting up pre stenciled posters; Blek pasted hundreds of large scale human figures, images representing people and urban life, and politics and struggles.
Blek le Rat Art History
Blek le Rat was initially influenced by the graffiti he saw in New York when he was 20 years old.
He was fascinated by the colours, shapes and expressionism; it had a lasting impact on him.
At that time in 1971, there: "…was yet to be a movement of artists investigating the urban landscape and acting out artistically within it." Blek le rat
Blek le Rat returned to France to study art at Ecole des Beaux Arts in Paris, focussing on etching, lithography and screen printing as well as urban city architecture, which gave him an appreciation for the Paris streets.
It took 10 years for his own graffiti style to emerge and he was heavily influenced by the work of British artist David Hockney, who held and exhibition near his art school in Paris in the early 70s.
"I can say that his work is the most impressive thing I had ever seen in my life."
"…Hockney made a film titled,"The Bigger Splash", in which he uses oil to paint the image of one of his friends on the wall of an apartment; the image has never left my mind."
"I thought this film was so important to the history of art that I watched it over and over, as many as 10 or 15 times." Blek le Rat
Blek le Rat's Art Style
When he began to paint in the streets in 1981 in Paris, Blek le Rat chose a stencil that had a more Latin style which he felt better suited Paris.
His first stencils were small black rats that he made run along the walls of Paris.
Blek's work evolved and in 1983, Blek began painting human-sized stencils.
He is credited with being the inventor of the life-sized stencil, as well as the first to transform stencil from basic lettering into pictorial art.
Blek, who has influenced generations of street artists around the world, boasts a subtle social commitment and considers his images as a gift he gives to the city.
His works often represent solitary individuals that can be encountered in the urban space – women, children, old people and all kinds of contemporary characters.
In a desire to bring the people of the city closer to art, Blek le Rat quotes the great classics such as Caravaggio, Michelangelo, Reni and Leonardo da Vinci: "I would like to bring the characters out of museums to return them to the people of the city."
In the mid-2000s, his work took on a more political aspect.
He pasted up hundreds of posters with the effigy of the journalist Florence Aubenas, kidnapped in Iraq, in order to call for the support of the media and political actors.
This event was a pivotal moment because: "I became aware of my strength and my responsibility as an artist working in the public space."
That same year, he began the series of beggars to tackle the problems of the homeless.
All over the world – in Europe, America or Australia, he paints the young beggar to challenge the authorities, because "sometimes", he says, "images have more impact than reality."
Blek le Rat Art For Sale
At Woodbury House we have a range of Blek le Rat art for sale. Please enquire for more details.
Alex Baby

Liberated

Centaur Sheep

Christ Visconti

Computer Head – Paris

Cowboy – New Mexico

Cowboy – New Mexico

Dancer Lima

David – Paris

Diana – Tate

FaunVolubilis 2001

FaunVolubilis

Flo Moto

Homeless – Mexico

Homeless

Old Man Toy

Pakistani

Paraphernalia Rat

Rat 1981

Rats Police

Rats Blancs Et Noir 1982

Rope Pulling Dubai

Russian Soldier

Sheep Park

Spaceman – Paris

Tango

US Soldier

Venus Mexico

Alex – Berlin

Bagnac Chapelle 1992

Beggar

Beggars Banquet 2001

Belgrad 2009

Action Berlin

Blek Paris

Blek Poster
Introducing:

Blek le Rat x Woodbury House
Woodbury House is exclusively representing the iconic father of stencil art Blek le Rat in the UK.
Many critics have criticised Banksy's work, saying that he copied directly from Blek le Rat, a French street artist who created stencil graffiti art from 1981-1983 in Paris.
Source:

Previous

Events.

31st Aug – 29th Sep 2023
Colours From The Streets
London
29 Sackville Street, Mayfair
21st Dec 2022
Official Gallery Launch
London
29 Sackville Street, Mayfair