"Now there's this guy named Banksy who's taken the world by storm… but the originator of the silhouette figure on the street is clearly Richard Hambleton."
Source: Mark Kostabi, Artist.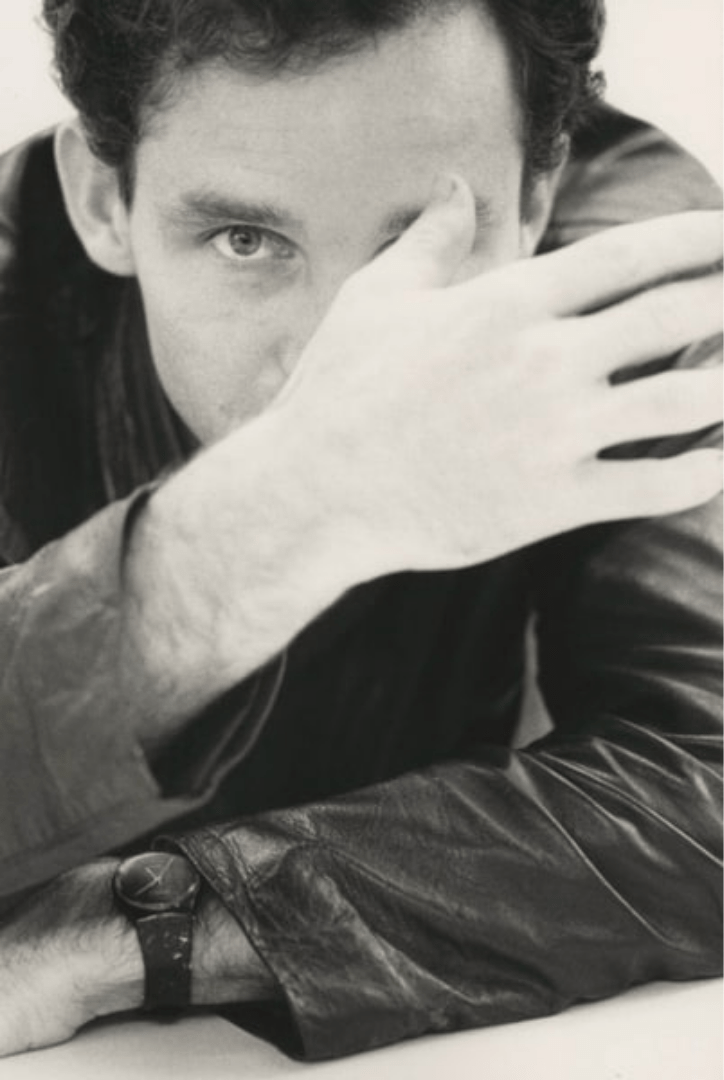 About Richard Hambleton
Richard Hambleton (1952-2017) was one of the pioneers of the Street Art movement in New York in the 1980s, along with Jean-Michel Basquiat and Keith Haring.
He is remembered as the 'Godfather of street art', but why is his artwork so significant?
Richard Hambleton Art – Street Artist
Mass murder art, homicide victims, crime scenes, shadow figures: figurative painting using the streets as a canvas; Richard Hambleton became one of the leaders of the explosive and visceral street art movement which formed New York's underground art scene.
His notoriety began on the West Coast of Canada and America in the late 70s, with his Image Mass Murder series. He would create a realistic looking crime scene; chalk the outline of bodies just as the police would after a murder had taken place, and add red paint to look like blood, which had the effect of startling or shocking passersby.
His Image Mass Murder art crime scenes eventually totalled around 600 across 15 cities.
Shadowman
Richard Hambleton moved to New York and in the early 80s, he produced the first of his striking Shadowmen which cemented this conceptual artist as an important figure in a powerful and volatile public art landscape.
"There's a part of him that's a real pioneer to plunge into the depths of the depravity that was the lower east side at that time. Prostitution and murder was just commonplace" Nemo Librizzi, Filmmaker, Art collector.
He was fascinated by the dark energy of the streets and his modern art is shocking, exciting, provocative, disruptive, political. It has formed part of our collective consciousness for decades.
Richard Hambleton's life sized Shadowmen would lurk on street corners, in doorways, ominously hovering on the walls of the buildings of New York, frightening and shocking.
His modern art battled the status quo and called out inequalities in an instantly recognisable, thought-punching way, forcing passersby on the street to stop and stare.
Around 450 shadow men eventually lurked on the streets of New York and became a symbol of the streets: "This work is conceptual – my brain is going to fall apart if I don't get it all out." Richard Hambleton.
Later he translated these figures to canvas and paper and developed his popular Horse and Rider – Rodeo themed artworks.
I Only Have Eyes For You
A lesser known piece that Hambleton began in 1980 is called I Only Have Eyes For You. It was a series of stencilled self-portraits pasted throughout the city, which also brought him recognition.
The printed images were fragile and impermanent, eventually fading into "white shadows."
Marlboro Man
Richard Hambleton produced paintings on walls, canvas and random items such as stop signs.
The Marlboro man and rodeo series are variations of his shadow head portraits.
Hambleton was a smoker and played with the idea of the American hero, the Marlboro Man, adding black 'tar' to the paintings for what he called the 'black lung effect'.
The Godfather Of Street Art
The art legends of the time: Keith Haring, Jean-Michel Basquiat, Andy Warhol were all outlived by Richard Hambleton and some believe that is why their celebrity outshone Hambleton's.
But at the height of his fame in the 80s, Hambleton's work was more in demand than any of his contemporaries.
However, his artistic temperament seemed unable to handle the fame and the demands put upon him: requests that included European exhibitions, the Venice Biennale, painting the Berlin Wall: "In the midst of becoming the most important thing in New York, with Basquiet, with Keith, he disappears."
Beautiful Paintings
Hambleton "became increasingly weary of the art business" and some of his later work seems a long way from the Shadowmen of the 80s.
Some sources say that what he produced as his 'landscapes' and 'beautiful' art was actually a reflection of his substance abuse.
In 2007, he worked on a solo exhibition in New York produced, featuring the "Beautiful Paintings". Hambleton said this work was a 'reaction against the abundance of figurative painting displayed in galleries at the time'.
Richard Hambleton's Art Resurrected
In 2009, art collector Andy Valmorbida and his business partner Vladimir Restoin Roitfeld effectively resurrected Richard Hambleton.
When discovered, he says: "I wasn't hiding, I was painting." Richard Hambleton.
Valmorbida funded and encouraged Hambleton to paint, resulting in a series of exhibitions all over the world in Milan, Moscow, Cannes and Paris, including an exhibition with Giorgio Armani. A return to fame (and fortune).
This exposure was followed in 2017 by a documentary entitled Shadowman which premiered at the Tribeca Film Festival. Just 6 months after the film aired, Richard Hambleton passed away.
Richard Hambleton's Death
Richard Hambleton was nicknamed the Shadowman because of his infamous street art and shadow head portraits but this nickname became all the more significant as he turned into a shadow of his former self.
His rise to fame led to his fall as substance abuse turned him into a recluse.
He often said of himself: "I am the shadow behind the shadowman."
Richard Hambleton died of cancer in 2017, aged 65, having lived a life part in the spotlight, part in the shadows.
Following his death, his work has predictably risen in value as his position as an integral part of art history is consolidated.
Richard Hambleton Art For Sale
At Woodbury House we have a range of Richard Hambleton art for sale. Please enquire for more details.
Jumping Shadows

Shadow Cats

Nightlife

Landscapes

Bloodworks

Horse and Rider

Shadow Heads – Paper

Shadow Hearts

Standing Shadows

Shadow Women

Stop Sign

Shadow Heads – Canvas
View the trailer for Richard Hambleton's documentary entitled 'Shadowman' , directed by Oren Jacoby.
Upon its release in 2017, Shadowman won an award at the TriBeCa film festival. The full documentary is available on Amazon Prime.
"He's such a crazy, dreamer, visionary that often it seems like madness"
Source: 'Shadowman' directed by Oren Jacoby.
Previous

Events.

16th Mar – 12th Apr 2023
Woodbury House Presents 'The Return Of The Rat' by Blek le Rat
London
29 Sackville Street, Mayfair
3rd Feb – 28th Mar 2023
Woodbury House presents 'Mr Wonderful' By Richard Hambleton
London
29 Sackville Street, Mayfair
21st Dec 2022
Official Gallery Launch
London
29 Sackville Street, Mayfair